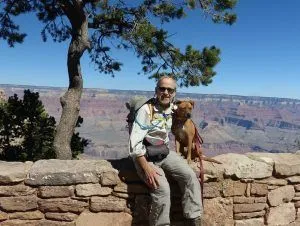 After practicing small animal medicine and surgery for 33 years in St. Louis, Missouri, I sold my practice and moved to Tucson to join the cohousing community of Stone Curves. Here I continue to work on a part time basis doing what I've always loved: practicing veterinary medicine but now, limited to a house call basis. In St. Louis I enjoyed house calls on an as needed basis and used my hospital as a base.
Since moving to Tucson I have also had a book published. LAUGHTER AND TEARS, A VETERINARIAN'S MEMOIR AND ADVICE is an autobiography of my years of practice in St. Louis. The last third of the book is devoted to many of the important lessons I have learned from my clients and patients. I am honored to teach classes at Olli (an affiliate of the UA that offers a non-credit lifelong learning program for all adults over the age of 50) where I offer a detailed discussion of the lessons in my book.
I believe it is always important to treat pets and their owners with compassion and respect, but be honest in telling the owner what is best for their pet. I appreciate working with senior cats and dogs, and I am often able to provide them extended years of quality life. I enjoy the challenge of helping the new pet owner achieve the most rewarding experience possible by solving frustrating behavioral issues.
Because I am semi-retired and enjoy making house calls, I try to keep my fees as reasonable as possible. A simple examination or vaccination may cost a little more than a similar service at the veterinary clinic, but your pet will get a full exam with each home visit, and I will spend as much time discussing pet care (whether yours is a puppy, a kitten or a geriatric) as you would like. I can often perform more complicated in-home procedures under reversible sedation. Such procedures may include a small lumpectomy, a simple dental (where no extractions are necessary and meticulous hand scaling is adequate), or the suturing of superficial bite wounds. These services can be significantly less costly than those provided through a full service clinic.
House calls may not always be appropriate for your pet, but given the choice, it is often a simple and comfortable approach preferred by all pets and many owners.